Sinclair QL
The QL was Sinclair's attempt at a 16-bit machine. Although announced in January 1984, the machine did not ship until May (even though orders were taken and cheques cashed) and cost £399).
When the first machines were shipped, not all of the components fitted inside the casing, so a small, add-on box stuck out of the back of the machine containing the overflowed parts.
Production ceased in 1987.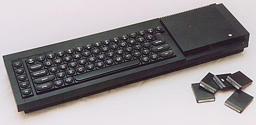 Keyboard type
Typewriter-style
Dimensions (mm)
472x138x46
Interfaces
2 microdrives (integrated)
2 RS232 ports
2 joystick ports
RGB interface
cartridge slot
Expansion port
Related Links